Hello out there in the Bloggosphere,
You might not this but governments always have to have someone responsible for sneakiness.
Spies and undercover detectives, people like that, are an important part of keeping any nation safe.
So, I've been thinking about when the Feline Pawty wins the election, whether I should have a Minispurr for Sneakiness. Someone who could be in charge of ASIO, and the Federal Police, and maybe Military Intelligence, all those sneaky things.
There's one member of the Feline Pawty who would be perfect as the Minispurr for Sneakiness.
She's a sleek little black panther. If she followed you during the night, you'd never know, she'd just be a black shadow in the dark.
She is
Jessie, the candidate for Goldstein
in Victoria. Jessie tells me she could put a Feline Pawty campaign poster on Ms Gillard's front fence in the middle of the night and no-one would see her do it. She'd be like a ninja. Pretty impressive, huh?
That's the kind of candidate Jessie is. And she thought of doing that all by herself. She's smart as well as sneaky.
Yes, I think Jessie would be perfect as Minispurr for Sneakiness. She's got stealth on her side. I'm sure she could take charge of all the spies and sneaky people the Federal Government has to employ. She will be very good at managing national security and all the big national secrets (like where the Prime Minispurr's stash of really good catnip is kept).
Oh this job of Prime Minispurr's going to be a real challenge, but I've got lots of good cats and honorary cats in my Pawty, and I'm sure they will all do a very good job.
Until next time we meet in the Bloggosphere,
I remain,
Mr Bumpy,
Bloggercat,
Supreme Feline Overlord,
Feline Pawty Leader.
Update:
Here's another picture of Jessie, being sneaky....
And our campaign poster at Ms Gillard's house....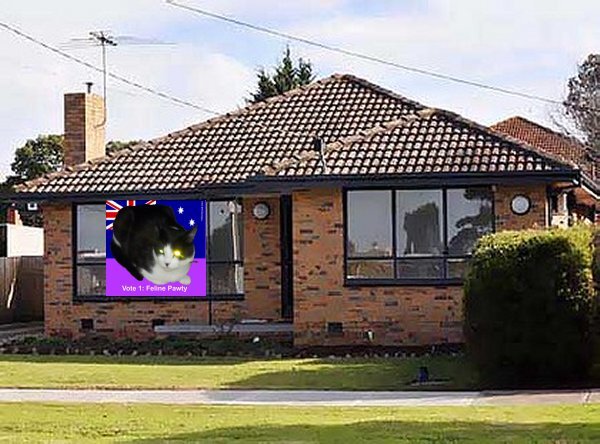 I really have found the right cat to be Minispurr for Sneakiness.